The terrain grid setting controls the distance between the points (and number of points) that will be used to generate the terrain surface when it is imported. Lowering the grid spacing can increase the granularity and level of detail in the terrain.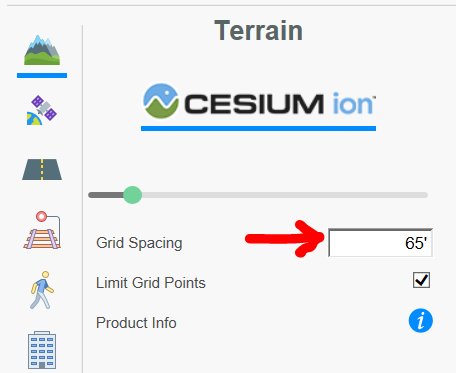 Note that this setting does NOT control the accuracy of the terrain. The accuracy depends on the data that is available from the terrain data source. The accuracy can vary depending on your location.
PlaceMaker always tries to import the most accurate terrain data, but we provide a grid spacing setting for you to control the density of the terrain mesh. If you are importing a huge area, it makes sense to use a larger grid spacing so the model is easier to manage. But if you are importing a small area and you know there is lots of variance in the ground elevation, it makes sense to choose a smaller grid spacing.
For Revit users, the grid spacing controls the number of data points that are used to create the Toposurface.