The Grade Brush moves vertices towards a plane based on the current slope angle and direction settings. Strength controls the amount of displacement.
The current slope angle is set by typing in a slope percentage value (eg. 10%) or a RISE:RUN ratio (eg. 1:10).
The current slope direction (downslope direction) is set by holding CTRL (OPTION) and clicking a point in the model. The point clicked becomes the first reference point. Click again, to choose a second reference point. The line formed by the two reference points determines the downslope direction. A small line attached to the green circle indicates the current downslope direction.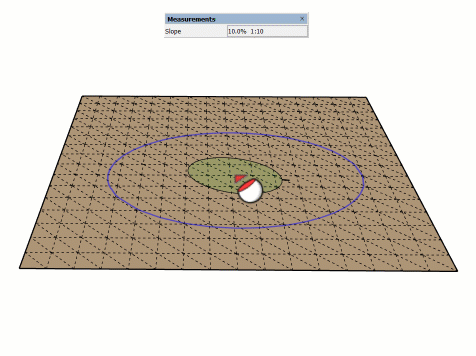 You can lock the elevation of a point by pressing and releasing CTRL. Hold CTRL and move the mouse to choose the point. Release CTRL to confirm the point. A magenta cross will appear and the cursor will show a red lock indicating that the point has been locked. Now, no matter where you start the brush stroke, the locked point will be forced to be on the plane of the current slope.
If no point is currently locked, the first point clicked at the start of your brush stroke will determine the point that is locked.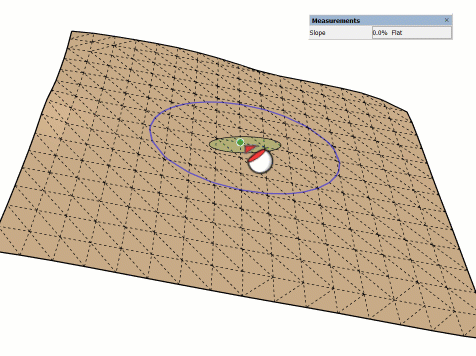 While setting the slope direction using CTRL+click, if you hold SHIFT while choosing your second reference point, you can set both the slope angle and direction simultaneously. A magenta line shows that this mode is active. This technique is useful when you want to grade a constant slope between two known points.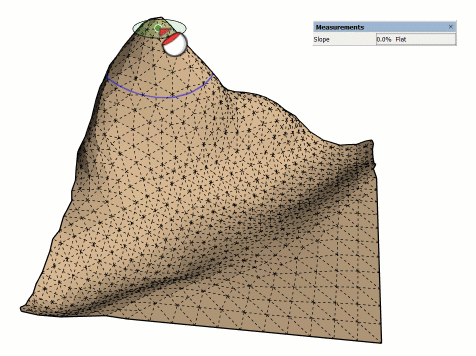 Finally, you can hold SHIFT while performing a brush stroke to constrain the vertices and edges to move vertically only. This is useful when grading around the vertical walls of a building or at other border edges where you only want to move the mesh upwards or downwards.
Slope Coloring and More
The grade brush is just one tool in the Artisan terrain modeling workflow. To learn about slope coloring and other terrain modeling techniques, watch the Grade Brush Video Tutorial.