The Bevel Tool rounds the selected edges based on the offset distance and number of segments. Not all edges can be selected and beveled with this tool.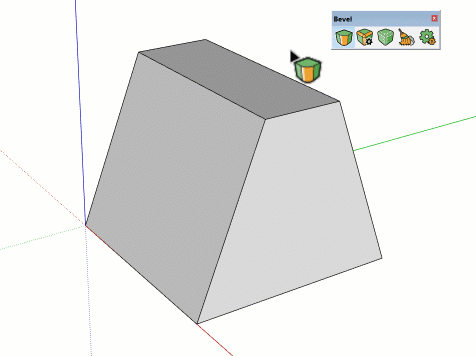 Operation
(Optional) Preselect edges to bevel
Activate the tool
If no edges are selected, click an edge, face, or surface to bevel
(Optional) Add or remove edges from the selection by holding a modifier key and clicking an edge, face, or surface.
Click again near one of the selected edges to pick the offset reference point.
Move the mouse to adjust the offset distance or key-in a distance in the measurements box.
Click to generate the bevel.
Modifiers
Up / Down Arrows = Change the number of segments
SHIFT = Hold and click to toggle edge selection
CTRL (OPTION) = Hold and click to add to the current edge selection
CTRL + SHIFT = Hold and click to subtract from the current edge selection
ALT (COMMAND) = Hold and click an edge to select the connected path of edges
Tips
Press ESC to clear the selection (when in selection mode), or pick a new offset reference point (when in offset mode)
Double-click an edge to re-apply the last used offset distance (when in offset mode)
Edges that will be added to the selection if clicked are highlighted in green
Edges that will be removed from the selection if clicked are highlighted in red